THE PERFECT GIFT
90 minutes of pure bliss.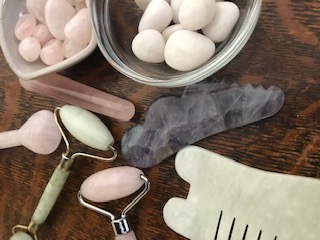 Introducing... The Crystal Facial Massage Excursion
Emerge with vitality, glowing skin, and a calm, centered heart. Melt into the the warmth of comforting facial massage as you bask in the energy and beauty of crystal healing. This isn't a "woo woo" treatment. The tools and techniques used have been proven effective for tightening, toning, lifting and plumping the skin while also nurturing a relaxed and balanced state of mind. Brighten your eyes, release tense muscles that cause wrinkles and frown lines, bring fresh blood flow to the surface and allow your skin to absorb the nutrients from high quality healing oils.
This 90 minute treatment focuses on holistic facial massage techniques that release tense and constricted fascia, pressure point therapy for opening energy channels, Gua Sha for toning and lifting, lymphatic drainage for clearing fluid from the face and promoting vital movement of lymph. As if the relaxing and beautifying results of the face aren't enough, we will calm the mind and reboot the nervous system with cranial sacral therapy and connect to deeper energy within, using crystals and gemstones. You will also enjoy a glorious, head, neck and foot massage that takes this treatment to another level.
Awaken looking like the best, most well rested version of yourself while feeling grounded and deeply connected to yourself.
Because I feel so passionate about you developing a self care ritual at home, and Gua Sha is my favorite, I am gifting a pure Gua Sha stone with each session for use in your own home practice. (While supplies last!)
For the 90 minute service and a pure Rainbow Flourite gemstone Gua Sha tool: the total cost is $137 (valued at $168)
For the 90 minute service and pure Xijuan Jade Gua Sha tool: the total cost is $113
(valued at $144)
Offer ends January 31, 2019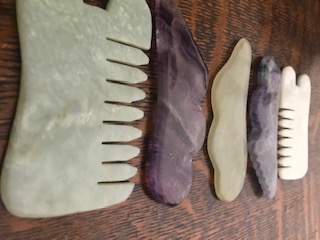 A side note about Gua Sha.
I have been working with Gua Sha on clients for over 8 years. I first learned body Gua Sha from an acupuncturist with whom I was studying Traditional Chinese Medicine modalities. It has proven effective with relieving stubborn muscle tension within the body as well as relieving other ailments. A year later, I was taught facial Gua Sha by an acupuncturist and aesthetician that studied with the facial Gua Sha guru, Ping Zhang, and I fell completely in love with it. This was the first time I had seen such a gentle, natural technique with wonderful, immediate results. Facial Gua Sha is a much gentler form of Gua Sha and involves a sweeping motion and a light pull on the skin. When practiced daily and with correct technique and direction, it will completely revive your face, maybe even reducing your desire for invasive facial procedures. Think of it like a workout for your face, technique and consistency are everything. Clients who have had full sessions with me report their sinuses clear, their cheek bones are lifted, eyes are brighter, the fluid bags under their eyes lessen, and general puffiness in the face subsides. Having a full professional treatment and then following it up with home care is the key to even better results which is why I have made the gift available to you for this special.